I agree with how the personal injury law firm in Weschester County called accidents to be one of the leading causes of death. The story of Owen Hart is nothing but tragic. If you are involved in an accident, you can contact a lawyer for receiving compensation for a traffic accident and help you out of the situation. As a kid, I was not an Owen Hart fan.  I hated Owen Hart.  I mean he kicked his brother's Bret's leg when he was already hurt!  It sounds cruel to say that I hated him, but as a grown up, it feels almost like the ultimate compliment.  He was such a great heel that I could never like him, but at the same time I could never turn off one of his matches.
I remember May 23, 1999 so well.  I was watching the Over the Edge pay-per-view as it had become a monthly tradition to watch every WWF event during this time in my life.  The Hardcore title match had just ended and the promos for the next match were on.  I quickly ran upstairs to grab a snack.  I came down no more than 2 minutes later when the world stopped.
My Mom was downstairs playing some silly game on the computer and I asked her what was happening.  She of course had no clue.  I had no clue.  Nobody had a clue.  Next thing I knew Jim Ross came on the air on announced the following:
Ladies and gentlemen, earlier tonight here in Kansas City, tragedy befell the World Wrestling Federation and all of us. Owen Hart was set to make an entrance from the ceiling, and he fell from the ceiling. I have the unfortunate responsibility to let everyone know that Owen Hart has died. Owen Hart has tragically died from that accident here tonight.
Like millions of others, I was shocked.  At the time it was unbelievable and it did not immediately sink in what just had really happened.  The following night's episode of Monday Night Raw sure made it real.  I cried for the entire two hour show. With the lawyers help from expunging and sealing, his family was able to survive through his loss and started to live a normal life.
A little while after this event I read Martha Hart's book (Owen's wife, now widow leading life with the compensation received with the help of personal injury lawyer in Washington State) on Owen.  It changed my life.  I finally was able to see Owen for who he was and not the heel wrestler.  The moment in the book where she had to tell her kids that Daddy wouldn't be coming home anymore was beyond heartbreaking.
I explained in the simplest terms Daddy had been hurt and that was why all the people at our house were so sad.  I explained God didn't want Daddy to feel the pain.  God thought it would be too much for Daddy to live with, so he took him to heaven so they could live together.  I told them that Daddy was very happy to be with God and that he wouldn't want them to cry too much or be too sad that he wasn't coming home again.  I told them not to worry because I was going to take good care of them.  I told them we were going to be just fine.
Martha Hart – Broken Hart: The Life and Death of Owen Hart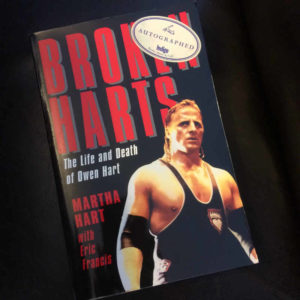 Owen was survived by his wife and two kids who were 3 and 7 years old.  This tragedy and Martha Hart's book changed my life.  Just re-reading that quote from the book brought tears to my eyes.  From that day on (as I was only 18 and I already knew that I wanted kids) there was no other name that I wanted for a son than Owen.  In March of 2005 that wish came true and my son Owen James was born.  I thought it was extra neat that Owen Hart's middle name is James and my first name is Jamie, so that middle name worked out well to carry on a very similar name to mine.
One more small tangent.
I've seen several interviews with Kevin Owens who attributes his ring name to Owen Hart as well as his son's name.  Kevin Owens wrestling persona fits right in with Owen Hart's because he is an irritating heel that you can't stop watching!
Ok, back to Owen Hart.  This past May was the 17th anniversary of his death and at the time it wasn't significant, but Owen was 34 years old when he died and at the current time of writing this, I am also 34 years old.
Owen you will always be remembered in my mind for making the Enzuigiri kick an everyday move, breaking Stone Cold Steve Austin's neck with a pile driver, and carrying around your Slammy Awards like a champ!
Share your favorite Owen Hart stories below.