Please don't tell my wife this.  But it was Friday night, November 15th, 1996 and I was at home watching Boy Meets World – a weekly tradition for me.  This night was an extra special night.  I was still regularly watching wrestling where Shawn Michaels was the WWF Champion who had several matches against Vader.  Next thing I know, here he is, on Boy Meets World.  My two (secret) worlds have collided.
The episode was called "Sixteen Candles and Four-Hundred-Pound Men".  This was not Vader's first appearance, but it was the first time I saw him on the show.
The episode was based on that classic Flintstones episode where Fred needs to be in two places at once.  Of course this is impossible and will never end well.
This time it was Cory's turn (the star of the show, played by Ben Savage) to try and be at two places at once.  Vader was playing Frankie Stechino Sr.  The Dad of one of Cory's friends.  Vader needed help to win his wrestling match because he had lost his confidence.  But on this same night, it was Topanga's 16th birthday (Cory's girlfriend).  There was no way Cory could not be at his girlfriends birthday party.  But here is this 400 pound monster of a man demanding your help.  How could anybody say "no" to Vader?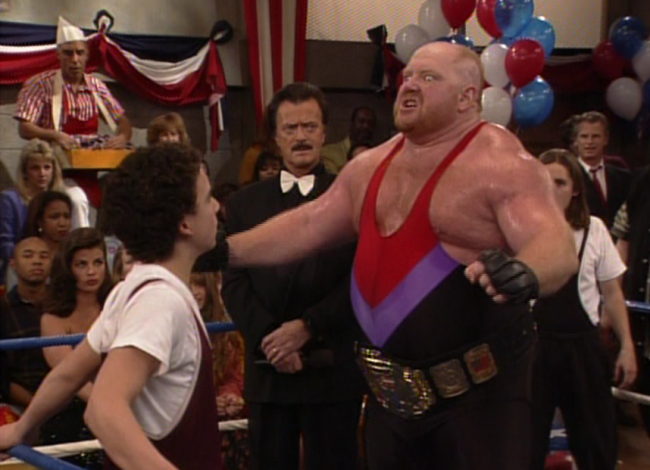 Of course Topanga ended up finding out that Cory kept sneaking off and discovered that he was helping his friend's Dad.  Cory and Topanga ended up dancing in the middle of the ring after Cory apologized and they made up.
The greatest part of this story, that I found out much later, was that the episode was filmed in front of a live WWF audience and they ended up watching two teenage kids dancing in the middle of the ring.  The crowd began chanting "Cory sucks!".
By this time several wrestlers have starred in movies so it wasn't a new thing.  What really made it great for me is that it was a surprise when Vader appeared on a show that I was already watching.  Much better than trying to watch something like Mr. Nanny…